Welcome To
Sea Breeze Motel
Say goodbye to the sounds of traffic and stress of work and hello to salty sea air and palm trees for days at Sea Breeze Hotel, located in Pacifica, CA. This charming seaside destination is on the Pacific coast, halfway between San Francisco and Half Moon Bay. From embarking on a nature hike to surfing on golden beaches to hitting a hole in one, there are plenty of unique things to do near our Pacifica, CA, motel.
We are a small, family-run beachfront motel on Rockaway Beach in Pacifica, CA, and we offer several rooms to choose from to meet your needs. Each of our guestrooms offers complimentary WiFi, cable TV, and refrigerators. What's more? Our hotel in Pacifica, CA, features complimentary continental breakfast, beachfront views, and free parking. You won't be disappointed.
Location is everything when choosing a hotel, and our best amenity is our oceanfront location. Feet from the water our motel gets you as close to the ocean as you can get. Trials are steps away from our rooms, as are food options. We are also nearby top sites and attractions, such as Mori Point, Devil's Slide Trail, Pacifica Municipal Pier, Shelldance Orchid Gardens, and Milagra Ridge.
Guest Rooms
SLEEK GUEST ROOMS WITH DECENT AMENITIES
Sea Breeze Motel provides budget-friendly lodging with a front-facing view of Pacifica State Beach from our rooms. A calming place with a quiet ambiance with soothing fresh air and ocean breeze. The Sea breeze motel in Pacifica is the perfect place for you if you are into nature. Cable Tv, a mini-fridge in each room, a coffee maker in the lobby, and modest desserts for breakfast are all included. For midnight cravings, vending machines are full-time accessible. We always ask our guests which room they desire just after booking because the motel has two sides in an L shape. However, the more significant part covers the breathtaking view of the ocean. Every guestroom is built so that one can relax after exploring Pacifica.
Explore Our Hotel
Being the second generation of our family-run Sea Breeze Motel. We aim to serve comfortability with calmness as our first generation served for the past 20 years. We are focusing on making our motel as family-friendly as possible, so we urge guests that smoking and loud music are restricted to ensure guests can have a relaxed stay at our property.
Our Location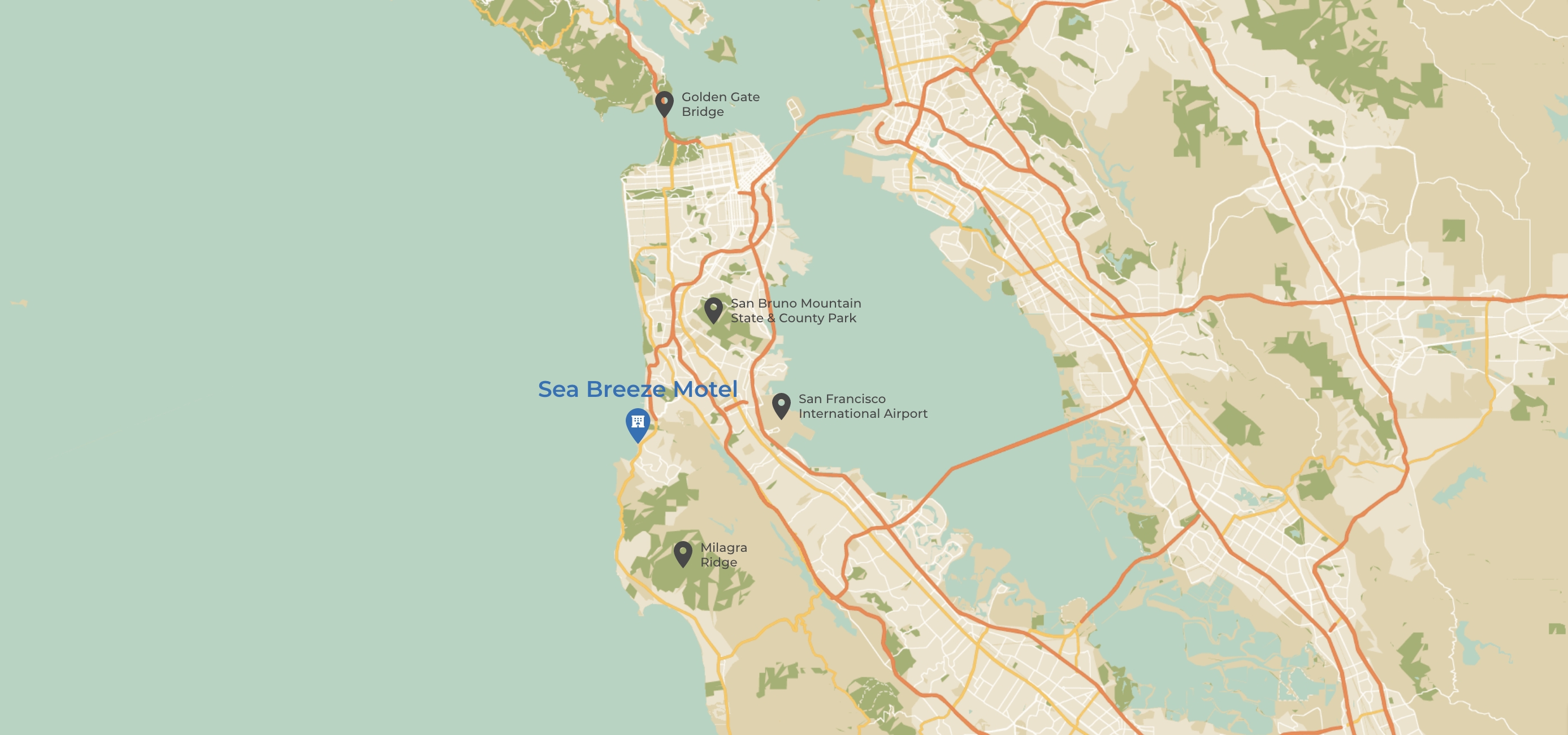 Sea Breeze Motel
100 Rockaway Beach Ave
Pacifica, California 94044